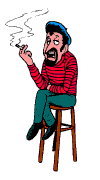 Like most musicians,.. creativity doesn't just pertain to music, and so it is with the members of GBH as well. Here on this page you will find some of the Art, Flyers, Posters and other creations from the Various members of GBH. This is a small sampling right now,.. but there is MUCH More to come.
CLICK ON ANY OF THE IMAGES TO SEE A BIGGER VIEW

This the Fez Monkey,.. created by Ronnie Lee and it now hangs in the GBH Recording Studio in a prominent place. This is being considered to be our New Logo!
This is one of the flyers we used to announce Upcoming Gigs. This one was created by Big Ron Karis and showed the weird and Humorous side of GBH.

Here is another of the flyers that was used to announce a gig at a local club. You'll see that Ron and the other members who created the flyers, always had a little "Different " style to promote these shows.

This is the "BlueGirl", another of Ronnie Lee's creations. These are all painted, then cut out on plywood and mounted. This also is prominently displayed in GBH's recording studio.

Another of the GBH flyers. This one was apparently Never used since there is No Venue noted on the flyer. It was probably considered a little TOO Risque', even for those of us in GBH!
There will be More art work showing up here soon, so Come Back Soon, and Often!